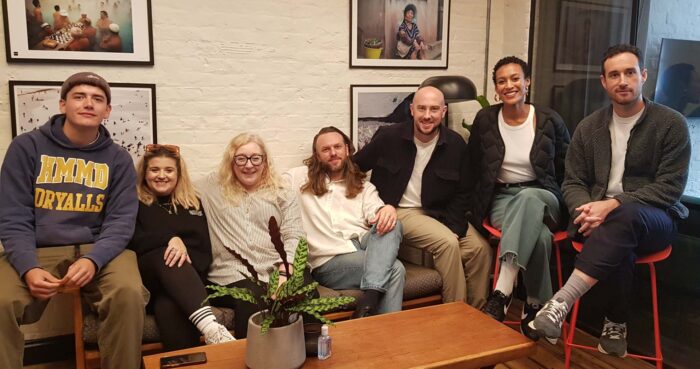 Spindle is one of many progressive companies deciding to invest in Diversity and Inclusion training for their employees. Founded by Greg Hackett with only a camera and backpack, Spindle now employs 19 staff and specialises in innovative video production from commercials to documentaries and shorts.  Their work is original, diverse and refreshing – and everyone on set must reflect that for maximum creativity.
'Our vision at Spindle is to improve the pathway into production for people from lower socio-economic backgrounds and under-represented groups. This is only possible if we create an inclusive work environment, both in the office and on set,' commented MD Stitch Richardson (seated in the middle).
Donna Marsh recently conducted a full-day session at their London Studio office, with lively discussions back and forth. Key issues were understanding and appreciating diversity, whether this be through race, gender, age or culture and ensuring better teamworking and problem-solving through the elimination of unconscious biases, careless stereotyping or prejudice.
Language Matters has recently seen a surge of interest in Diversity & Inclusion training from companies who passionately believe that developing better awareness of bias and prejudice – which can be implicit in careless language, behaviour or microaggressions – leads to a more inclusive workplace culture, greater teamworking and increased productivity.  Using a number of examples to show how the smallest behaviours can break apart teams and create a climate of mistrust, Donna encouraged the participants, in a fun and entertaining manner, to celebrate diversity by recognising and respecting each other's differences and those of others.
Stitch was more than happy with the outcome: 'We booked the Language Matters course to help our team understand the importance of language in an inclusive workplace. The course with Donna was enlightening and engaging, and we saw an instant change in everyone's self-awareness, use of language, and confidence when discussing sensitive topics such as those involving race, ethnicity, gender, sexual orientation, and gender identity.'
If you think a fun and informative D & I training session could improve the well-being of your team and increase collaboration and productivity, contact Debbie Sasson on + 44 (0) 7977 117290 or debbie.sasson@languagemattersuk.com.   Or have a look at our range of cross-cultural courses at https://languagemattersuk.com/cross-cultural-training/.