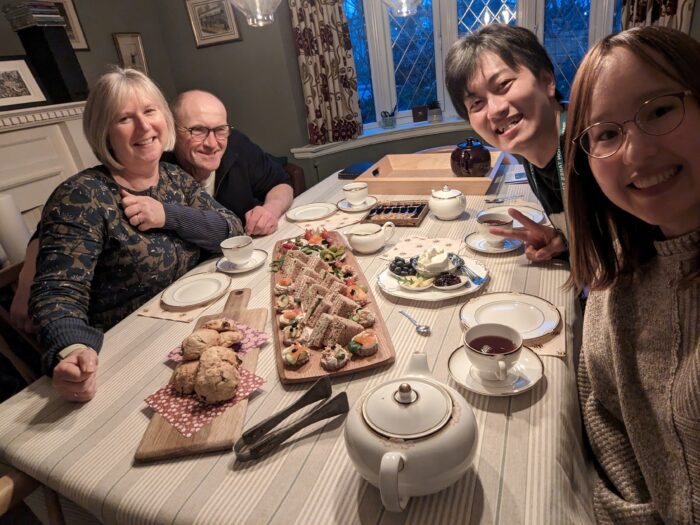 We hear about Japanese tea ceremonies … but what about the famous British equivalent, the cream tea?  Ryu and Ayaka Kawaguchi were both offered cultural and language training by Ryu's employer, Nestlé, while settling into a new life near Nestlé's Product Technology Centre in York. They loved the cultural training to prepare them for the idiosyncrasies of British life and British business culture.  But what interested them – especially Ryu since he is a (food) Product Development Specialist – was how the British tea might compare with the Japanese version?  Well, certainly more calorific, but still great fun!
Language Matters' trainer Jackie Black and her husband Phil were more than happy to extend the course to chat over tea at their house in York.
'It's great to see that global companies like Nestlé recognise the value of cultural training', says Jackie. 'Employees often face culture shock when moving to a new country and this programme helps them to understand their new culture and prepare for any challenges they may face.  Ryu and Ayaka now have an increased cultural awareness and better understanding of everyday life in the UK, the people, our customs, business etiquette, working in culturally diverse teams and communication style'.
Communication is always a hot topic and Language Matters' trainers receive questions ranging from how to deal with the constant barrage of messages on the school parents' WhatsApp group to appropriate communication styles for meetings with senior management!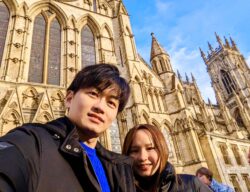 And of course, learning about cultural differences helps employees work more effectively with colleagues from different cultural backgrounds which is essential in a diverse work setting such as Nestlé's Product Technology Centre.
Ryu and Ayaka are also benefitting from 1-2-1 language training, which is handled by experienced language trainers, Rob and Tomoko.  The course for Ayaka is designed to help her integrate into everyday Yorkshire life, while for Ryu, already a good speaker, the focus is on taking his language and communication skills to the next level to increase his effectiveness in the UK business environment.
'Language Matters took so much care in tailoring the training for us', said Ryu.  'Jackie, Rob and Tomoko listened hard to what we needed and designed courses to suit.  Both my wife and me really enjoy their lessons. I've had English tuition before, but I have to say that the course with Language Matters really exceeded my expectations. Thank you!!'
If you'd like to chat about how we can support your international teams in the UK or overseas, please call Debbie on + 44 (0) 7977 117290 or email debbie.sasson@languagemattersuk.com.